A grad party is often the catalyst for a needed refresh. The good news is that there are many ways to give your home that "newly remodeled" look without the time and expense of a full remodel.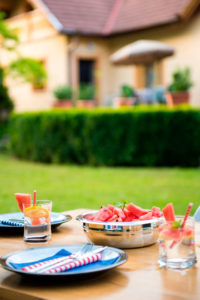 Some of the easiest and least expensive updates involve accessories such as new throw pillows or new rugs. Add pops of vibrant color for a surprise and excitement. Fresh paint or new wallpaper can also have a dramatic effect on your space and is relatively inexpensive.
Update your decorative lighting. Styles of kitchen pendants and chandeliers have changed over the years, and a small investment in new lighting can infuse your space with an entirely new vibe.
Cabinet hardware is often called the "jewelry" of the home. This update is easy to do yourself. Today's homes integrate many different metal finishes, so don't be afraid to replace some polished brass with brushed brass, or swap out some chrome for polished nickel or oil rubbed bronze.
Finally, countertops can be easily changed to give your kitchen a fresh, clean look. There are many types of easy-care surfaces to choose from, at a variety of price points. Not all kitchen surfaces have to be the same, either. Your guests may think you remodeled your entire kitchen when all you did was replace a countertop!
written by Kelly Davert | Mingle