The Covid-19 pandemic has impacted parties overall, especially the 2020 and 2021 graduation parties. Grads and their families are looking for ways to have a memorable graduation celebration while following state guidelines. Here are some tips for planning a graduation party during Covid-19.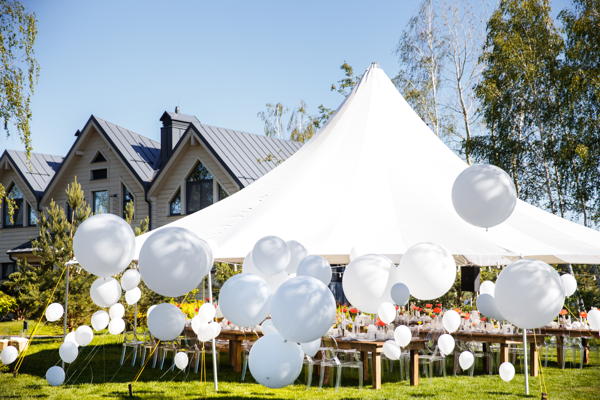 1. Host your party outdoors. Rent a tent (keep a constant stream of airflow by leaving sides up) this way it keeps partygoers out of the sun and your food in the shade. Rent cocktail tables to keep people moving and make sure that if you are having seated tables that guests have seated a minimum of 6 feet apart. When ordering your tent, keep in mind spacing, because this will impact your tent size. Tented stations will also allow constant movement of guests.
2. Order food from a caterer that is following CDC and state guidelines for sanitization and food preparation. Whether looking for pick-up catering or a full-service event, the way food is presented is important. Self -Serve buffets may be a thing of the past…
Consider planning a boxed meal for each guest or individually served items. Think gourmet sandwiches, individual Asian noodle salads served in Chinese takeout boxes, bento boxes with a variety of offerings.

With a full-service catered event, servers can handle food from the buffet limiting direct guest contact. Sliders, BBQ, Sub sandwiches, tacos are some party favorites and are popular options for grad parties and can easily be served by staff. Food Trucks are a great option when serving during the Covid-19 Pandemic, they are self-contained and served plated, packaged, and direct to guests.  Also, food trucks make for easy clean-up.
3. Desserts by the bite. A cake can still be served, but have a person assigned to cutting all the slices and putting them on individual plates. Individually wrapped cake pops, slices of pie, cheesecake for 1, popcorn bag, mini donuts, cotton candy, and pre-portioned Ice cream are just a few of the options.
4. When it comes to drinks – Canned and bottled are the way to go to eliminate excess handling. Lots of fun drink options or have flavor enhancer packets for guests to add on their own.
5. Add a unique way to follow mask guidelines? Incorporate face masks into the celebration by getting custom cloth masks in the school colors or with the school logo on them.
6. Make it easy for guests to follow sanitization guidelines. Have hand sanitizing stations readily available.  Put your own custom sanitizers out in spray or liquid.  This will add another level of comfort for your guests.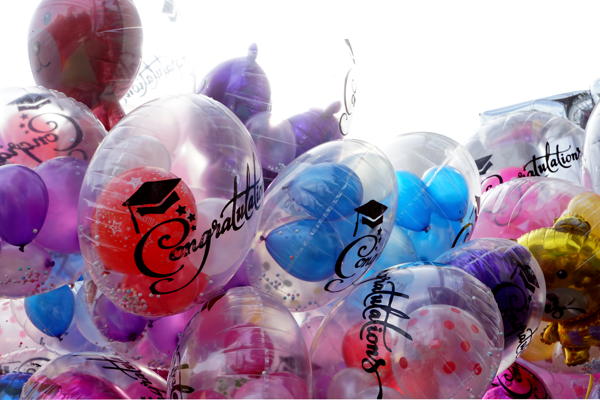 Let's look ahead and start planning now.  Things can and will change, but being prepared will go a long way.  Look for updates from Everything Grad to celebrate your 2021 Grad in style.